SpaceCheap.com's Hosting Plans:
If you are just starting out on the Internet or if you are the webmaster of a large corporation, we have the right solution for you. We combine web hosting, high-speed dedicated connection and upsize web projects all under one roof.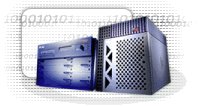 Through our automated account creation you can be on-line within a few hours. Should you prefer that we setup your account for you, simply pick a plan and notify us through our automated email contact form
We are determined to offer our clients the best web hosting experience possible. To ensure 100% satisfaction we offer a 30 day money back guarantee.
Why Should You Host Your Site With Us?

-100% satisfaction guaranteed
-30 day money back policy
-24/7 Technical Support
-99% Uptime Guarantee
-Real Multiple OC3s
-Power Backup Generators
-Fully automated online capabilities
-CGI Bin access
-Plans to fit any website

Control Panel:

| | |
| --- | --- |
| Apache, Mail, FTP, MySQL, Online Help Guides, and more | The Plesk™ Control Panel is a web-software utility which allows you to control the dynamic features on your website account. |
Hosting Plans
Plan 1
Plan 2
Plan 3
Plan 4
Plan 5
Plan 6
Plan 7
Plan 8
General Features

Web Space
50mb
75mb
100mb
150mb
250mb
300mb
400mb
750mb

Email Accounts
10
20
30
40
50
60
100
200
Bandwidth
3gig
4gig
4gig
5gig
5gig
6gig
6gig
7gig
Web Site Features
Front Page Extensions
Yes
Yes
Yes
Yes
Yes
Yes
Yes
Yes
IP Address (shared)
Yes
Yes
Yes
Yes
Yes
Yes
Yes
Yes
Web-Based Email Reader
Yes
Yes
Yes
Yes
Yes
Yes
Yes
Yes
Incoming & Outgoing Mail
Yes
Yes
Yes
Yes
Yes
Yes
Yes
Yes
Catch-All Email Account
Yes
Yes
Yes
Yes
Yes
Yes
Yes
Yes
Email Aliasing
Yes
Yes
Yes
Yes
Yes
Yes
Yes
Yes
Email Autoresponders
Yes
Yes
Yes
Yes
Yes
Yes
Yes
Yes
Customer Service
Quick Email Support
Yes
Yes
Yes
Yes
Yes
Yes
Yes
Yes
Online Tech Support
Yes
Yes
Yes
Yes
Yes
Yes
Yes
Yes
Online Manuals
Yes
Yes
Yes
Yes
Yes
Yes
Yes
Yes
Control Panel Tools
Online Control Panels
Yes
Yes
Yes
Yes
Yes
Yes
Yes
Yes
Directory Protection
Yes
Yes
Yes
Yes
Yes
Yes
Yes
Yes
Vacation Messenger
Yes
Yes
Yes
Yes
Yes
Yes
Yes
Yes
Password Manager
Yes
Yes
Yes
Yes
Yes
Yes
Yes
Yes
Spam Filtering
Yes
Yes
Yes
Yes
Yes
Yes
Yes
Yes
Mail Manager
Yes
Yes
Yes
Yes
Yes
Yes
Yes
Yes
Network Specifications
1GHz Duron, 1GHz RAM
Yes
Yes
Yes
Yes
Yes
Yes
Yes
Yes
Red Hat Linux 7.1
Yes
Yes
Yes
Yes
Yes
Yes
Yes
Yes
Apache
Yes
Yes
Yes
Yes
Yes
Yes
Yes
Yes
Uniterruptible Power System
Yes
Yes
Yes
Yes
Yes
Yes
Yes
Yes
Temperature Controlled NOC
Yes
Yes
Yes
Yes
Yes
Yes
Yes
Yes
99% Server Uptime
Yes
Yes
Yes
Yes
Yes
Yes
Yes
Yes
24/7 Network Monitoring
Yes
Yes
Yes
Yes
Yes
Yes
Yes
Yes
Scripting Tools
Web-To-Email Form
Yes
Yes
Yes
Yes
Yes
Yes
Yes
Yes
CGI-BIN
Yes
Yes
Yes
Yes
Yes
Yes
Yes
Yes
Server Side Includes (SSI)
Yes
Yes
Yes
Yes
Yes
Yes
Yes
Yes
mySQL/phpMyadmin
---
---
---
---
Yes
Yes
Yes
Yes
PHP 4.0
Yes
Yes
Yes
Yes
Yes
Yes
Yes
Yes
Perl 5
Yes
Yes
Yes
Yes
Yes
Yes
Yes
Yes
Telnet Access
Yes
Yes
Yes
Yes
Yes
Yes
Yes
Yes
Payment Terms
Setup Fee
$0
$0
$0
$0
$0
$0
$0
$0
Monthly (US Dollars)
$3.00
$5.95
$6.95
$7.95
$9.95
$12.95
$15.95
$19.95
SSL Supported - 128 Bit SSL, Need to acquire SSL Certificate through Thawte.com or Verisign.com